SCHOOL UNIFORM
---
UNIFORM SHOP
JANUARY 2020 OPENING HOURS
Both uniform shops are open prior to school starting as follows:
Tuesday 21 January to Monday 27 January  (weekdays only)
Hours: 10am – 3.30pm
When school begins Tuesday 28 January normal term-time Tuesday/Thursday opening hours apply (See times below).  Please respect these hours and organise to buy uniform at the appropriate time.  During the first few weeks back to school the uniform shop is extremely busy – please expect to queue and remember that our staff are doing their best.
Plastic bag free
School uniform shops are now plastic bag free so please come prepared with your own bags to pack your purchases into.
……………………………………………………………………………………………………………………………………………………………………………………
Regular term time hours
TUESDAY – 3 – 4.30PM
THURSDAY – 1.10 – 2.10PM
Thank you to parents who ensure their son(s) come to school every day in the correct school uniform.
ALL STUDENTS MUST BE IN SUMMER UNIFORM FROM FIRST DAY OF TERM 4
The summer polo shirt is to be worn during the next 2 terms of school.  Please check your son/s' uniform supplies to ensure correct school uniform is worn EVERY DAY.
To assist with the summer change-over both new & second-hand shops will be open on the last day of the school holidays FRIDAY 11th OCTOBER 10 am – 3.30pm.  Please organise to purchase uniform within the shop opening hours only.
Uniform may be paid for in advance either at the school office (8 am – 4 pm weekdays during term time) or deposited directly into your son's school account via internet banking so parents do not need to send boys to school with cash or accompany them to the shop – staff will outfit students.  If you do not agree with sizing an exchange will be made, so long as the uniform has not been worn and is not named.
SENIOR POLO summer shirts are worn by year 12 & 13 students only.
Please name all uniform clothing (& shoe bags etc).  Lost property is returned to students by office staff when a name can be read.
New Uniform Shop Prices
Summer Shirts / All Sizes / $43
Summer Shorts / All Sizes / $50
Socks / $14
Jerseys / $95
School Jacket / $90
PE Shorts / $33
PE Shirts / $38
Caps / $25
Year 12 & 13 (optional)
Senior Polo Shirts / All Sizes / $45
Grey Trousers / $58
White Shirts / $45
Ties / $25
Blazers (prefects and senior sports players)/ $200
Super 8 shirts / $35
Hire Uniform
If your son hires uniform has hired No. 1 uniform for a particular sporting/cultural activity, it is important the uniform is returned immediately after the event.
Hire uniform is limited. If students retain the items we have none to hire to others. Overdue fees may be applied for late returns.
---
---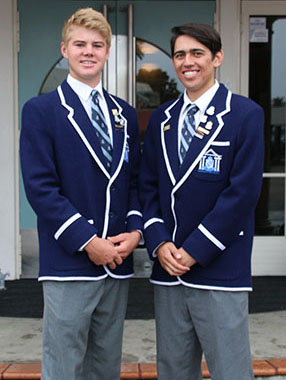 SUMMER UNIFORM (terms 1 & 4)
---
All students should be in Summer Uniform the first day of Terms 1 and 4.
WINTER UNIFORM (terms 2 & 3)
---
All students should be in Winter Uniform the first day of Terms 2 and 3.
Uniform Enquiries
---
Secondhand Uniform Shop
While we try to ensure second hand items are of a reasonable standard, please note it is "Buyer Beware" – there are no refunds on second hand items. It is recommended all purchases are checked carefully.

Secondhand Uniform items can be sold on behalf less 20% commission which goes to the Parents League. The items must be washed, mended and in excellent condition to be sold through our second hand shop. WE DO NOT SELL ANY ITEMS ON BEHALF THAT ARE NOT SOLD THROUGH OUR NEW UNIFORM SHOP. These items can be dropped off at the School Office between 8 a.m. and 4 p.m with your name, phone number and address. Uniform staff will price them for you and a cheque will be sent from the Parents League once the items have been sold.