SCHOOL UNIFORM
---
UNIFORM SHOP HOURS
TUESDAY – 3 – 4.30PM
THURSDAY – 1.10 – 2.10PM

Uniform shop is open on the last Friday of the school holidays 27 April, 10am to 4pm.

Please respect these hours – they are the only times staff are in the shop. Staff will assist students with purchases & fittings so parents only need arrange for payment if they are unable to make shop opening hours.

PLEASE MAKE SURE ALL ITEMS ARE NAMED. If your son loses any uniform that is not named there is no way we can identify it. If it's named and handed in to the office as lost property we return it to owner immediately.
WINTER UNIFORM CHANGEOVER
Students in years 10 -13 will remain in the 'old' style winter shirts. Please do not request the new style shirt as these are required to outfit our year 9 students.

We are no longer accepting winter shirts for re-sale in the second hand shop and ask that they are not handed on to new students. We are happy to take your old winter shirts and dispose of them for you as your son grows, or as they leave school.

PARENTS OF YEAR 9 STUDENTS ONLY.
It is now time to purchase winter shirts for your son for terms 2 & 3.

As the school is changing to a new style winter shirt this year every year 9 boy will be required to purchase brand new shirts.
Summer School Uniform
The summer uniform for 2018 is the sky blue shirt (with shorts, shoes & socks).

SENIOR SHIRTS are a privilege shirt available to seniors who have met the attendance/NCEA credit criteria. Seniors need to produce a written dean's slip when they purchase these shirts. Please do not give these shirts away or on-sell privately as this removes the 'privilege' from those students who deserve to wear them.
New Uniform Shop Prices
Winter Shirts / All Sizes / $48
Winter Shorts / All Sizes / $51
Socks / $14
Jerseys / $95
School Jacket / $90
PE Shorts / $33
PE Shirts / $38
Scarves / $20
Year 12 & 13 (optional)
Senior Polo Shirts / All Sizes / $45
Grey Trousers / $58
White Shirts / $45
Ties / $25
Blazers (prefects and senior sports players)/ $200
Sports
Rugby Jerseys / $80
Rugby Socks / $18
Hockey/Football Socks / $18
Football Shorts / $40
---
---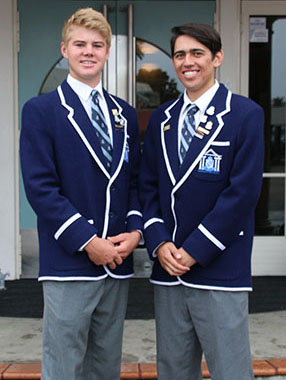 SUMMER UNIFORM (terms 1 & 4)
---
All students should be in Summer Uniform the first day of Terms 1 and 4.
WINTER UNIFORM (terms 2 & 3)
---
All students should be in Winter Uniform the first day of Terms 2 and 3.
Uniform Enquiries
---
Secondhand Uniform Shop
While we try to ensure second hand items are of a reasonable standard, please note it is "Buyer Beware" – there are no refunds on second hand items. It is recommended all purchases are checked carefully.

Secondhand Uniform items can be sold on behalf less 20% commission which goes to the Parents League. The items must be washed, mended and in excellent condition to be sold through our second hand shop. WE DO NOT SELL ANY ITEMS ON BEHALF THAT ARE NOT SOLD THROUGH OUR NEW UNIFORM SHOP. These items can be dropped off at the School Office between 8 a.m. and 4 p.m with your name, phone number and address. Uniform staff will price them for you and a cheque will be sent from the Parents League once the items have been sold.